Minister of Education Andersson at the UNESCO General Conference:
UNESCO needed to support human rights and freedom of expression even in times of crisis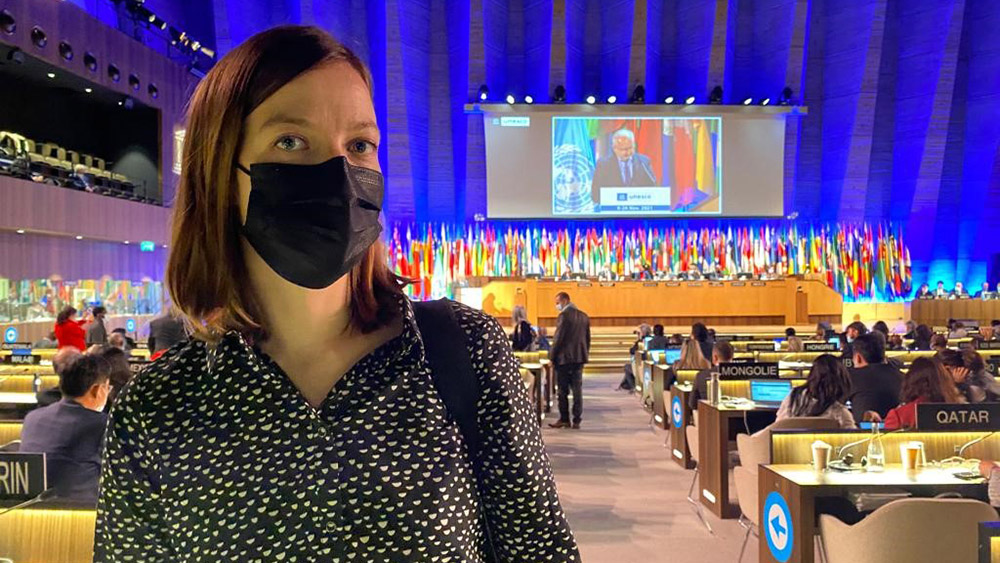 Minister of Education Li Andersson will lead the Finnish delegation to the General Conference of the United Nations Educational, Scientific and Cultural Organization (UNESCO) in Paris on 10–11 November. In Finland's keynote speech on Wednesday, the Minister of Education highlighted human rights as the basis of UNESCO's activities and its work as an implementer of the UN 2030 Agenda for Sustainable Development as well as supporting Member States to overcome the challenges caused by the coronavirus pandemic. The Minister of Education also welcomes the news of the Åland Islands' admission to UNESCO as an Associate Member.
Minister Andersson gave Finland's keynote speech in which she expressed support for UNESCO's goals for the next programme period 2022–2025. What is significant is the strong human rights basis of the programme and the goal of achieving even better interaction between its programme areas – education, science, culture and communication.
Promoting equality and improving the position of young people are important and prevalent tasks. Equally, achieving the goals of the UN 2030 Agenda is at the heart of everything. It welcomes the organisation's more decisive aim to respond more vigorously to environmental challenges under the increasing pressure of climate change.
Minister Andersson gave Finland's full support for the adoption of the recommendations on open science and the ethics of artificial intelligence, which have already aroused widespread interest.
Minister Andersson thanked UNESCO for the way in which it has captured situational pictures in its various programme areas during the coronavirus pandemic and explored the necessary global measures with the Member States in an inclusive manner.
UNESCO's role will continue to be significant during the recovery from the coronavirus crisis, not least as a defender of researched data and freedom of expression, in responding to the deepening global learning crisis and in strengthening the role of culture in maintaining social resilience.
Minister Andersson reaffirmed Finland's support for the organisation of the UNESCO World Conference on Cultural Policies and Sustainable Development – Mondicult in September 2022.
Minister Andersson also attended the High-Level Global Education Meeting 2021 (GEM), which launches the renewed global cooperation mechanism for the 2030 Agenda Sustainable Development Goal of Education (SDG 4), the preparation of which was led by UNESCO.
Minister Andersson welcomes the news that the Åland Islands became an Associate Member of UNESCO on 9 November. With this membership, the Nordic countries' voice and influence in UNESCO will be further strengthened, which is important in today's multilateral and, in some respects, challenging international cooperation.
Inquiries and interview requests:
- Touko Sipiläinen, Special Adviser to Minister Andersson, Ministry of Education and Culture, tel. +358 295 330 143
More information about UNESCO and the General Conference:
- Zabrina Holmström, Senior Government Adviser, Ministry of Education and Culture, tel. +358 295 30 114, +358 40 768 1284
- Piia Immonen-Seuguenot, Special Advisor, Finland's Permanent Delegate to UNESCO, tel. +33 1 4568 3433, +33 6 25 58 69 49