Finland: pioneer in gender equality
Finland was the first country in the world to extend the right to vote and stand for elections to all women and men in 1906. Finland was also the first country to elect women to Parliament: 19 were elected to the 200-seat Parliament in 1907. The success of Finland as a country is to a great extent linked with improvements in the status of women and gender equality. Already in 1917 a number of Finnish women were given four weeks of maternity leave. Nowadays the parental leave is almost one year and is also used increasingly by fathers.
Finland was the first country to grant full political rights to women in 1906. For more than 100 years women have had active roles in working life and decision making.

Our rise to the top ranks in various ratings is based on equality.
Promotion of the rights of women and girls is one of the four key priorities of Finland's new development policy. Finland supports, for example, women's participation in decision-making, business and industry, and in conflict prevention. Finland has placed the human rights of women as one of our priorities. As one of the most crucial aspects of violence against women and girls, Finland promotes sexual and reproductive health and rights of women and girls.
Famous Finnish Women
Minna Canth – a Finnish writer and social activist. Minna Canth is the first woman to receive her own flag day in Finland.
Miina Sillanpää – Finland's first female minister and a key figure in the workers' movement.
Helvi Sipilä – a promoter of women's rights. She was appointed as the first-ever female Assistant-Secretary-General of the United Nations in 1972.
Elisabeth Rehn – first female Minister of Defence of Finland in 1990. Rehn is known for her international assignments as UN Undersecretary General and as the special rapporteur for Human Rights in Bosnia and Herzegovina.
Tarja Halonen – first female President of Finland. Tarja Halonen has paid close attention to the issues of human rights, democracy, civil society and gender equality.
Sanna Marin – prime minister of Finland from 2019 to 2023. Aged 34 at the time, she was the youngest female state leader, and Finland's youngest-ever prime minister.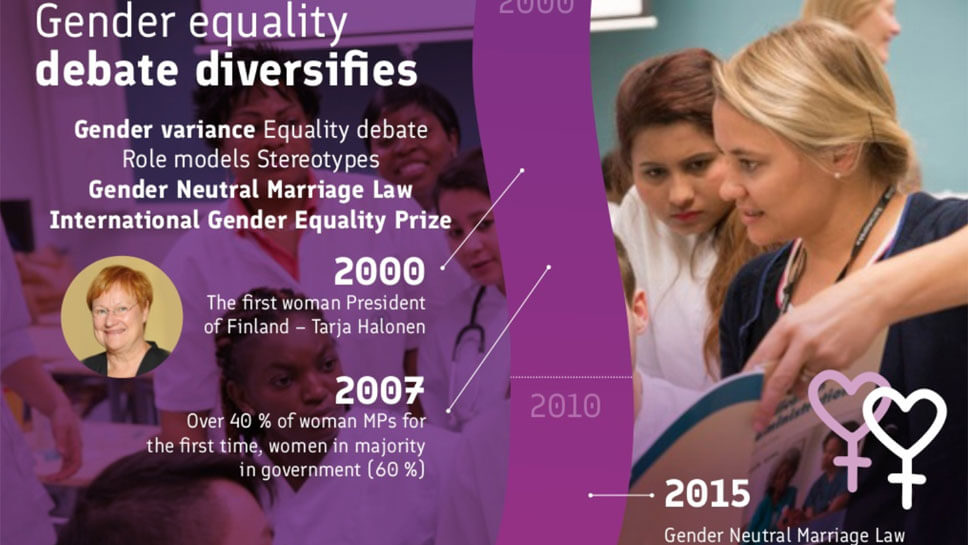 SlideShare: 140 Years of Gender Equality
Finland is a world leader in creating an equal society for women. We are still pursuing this work and hope to lead by example.
Today we are proud to report:
46 % of Members of Parliament in Finland are women (2023).

12 out of the 19 Ministers in the Government are women (2023).

49 % of all employed people are women (2021).

Roughly one third of all entrepreneurs in Finland are women (2022).

In the Finnish Foreign Service about 50 % of leadership positions are occupied by women (2018) and over 50 % of the 560 diplomats are women (2016).
We have received these accolades:
2nd best country in the world to be a woman (Women, Peace, and
Security Index, 2021/22).

3rd most gender-equal country in the world (Global Gender Gap Report, 2023).

3rd best country in the world for women's equality in the workplace (The Economist: The Glass-Ceiling Index 2022).

Finland has the fourth most equal gender distribution of power in the EU (European Institute for Gender Equality; Gender Equality Index 2022: Power).

Most effective country at utilising human talent (World Economic Forum).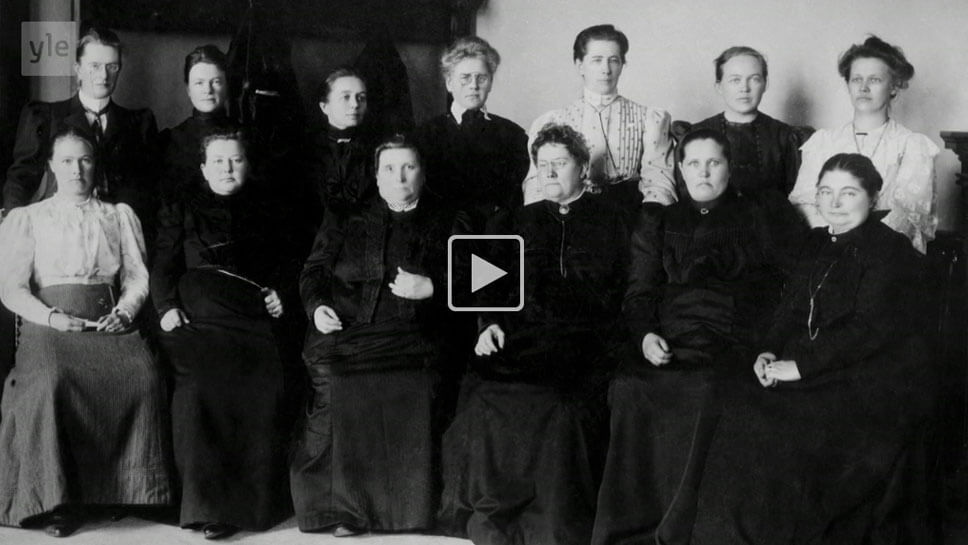 Video: The History of Equality
Read more