Family leave reform to increase gender equality and flexibility in daily lives of today's families and in everyday working life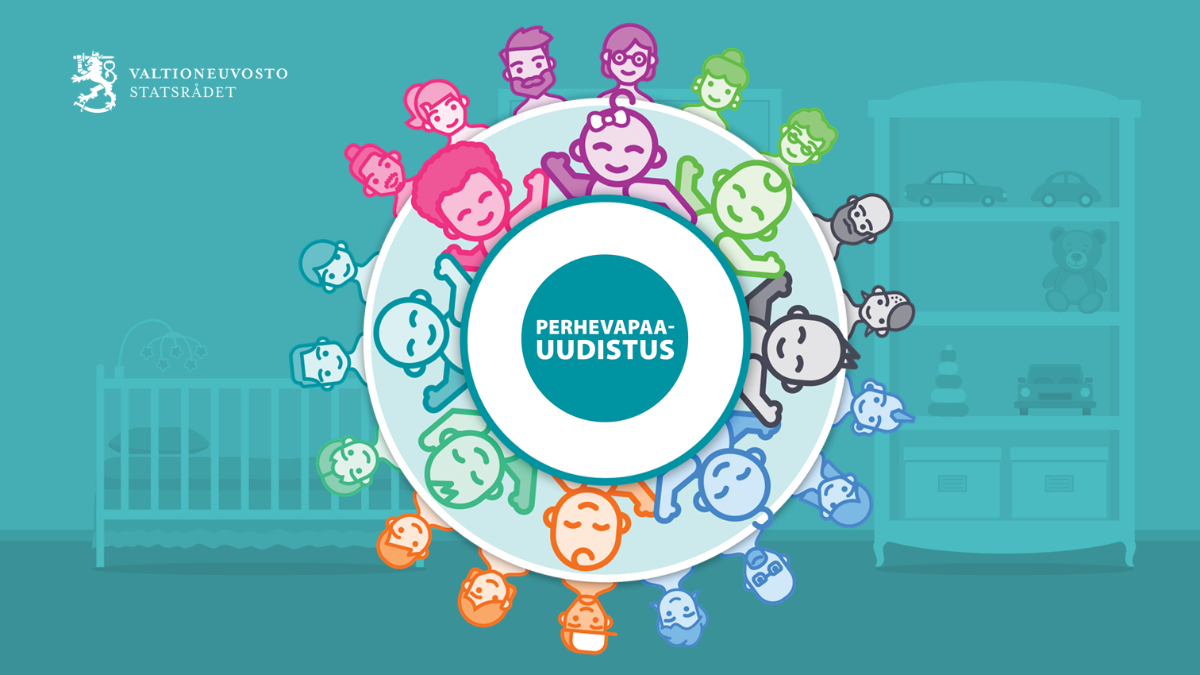 The Government has completed its proposal for the family leave reform, and the proposal will now proceed to Parliament for consideration as decided by the Government on 16 September. The reform is scheduled to enter into force on 1 August 2022.
"The family leave reform is a significant step in developing the family leave system and improving gender equality. It is an investment in families with children, taking account of different types of families. It is also an important factor in achieving the Government's population policy objectives. This proposal will help us move towards a more socially sustainable society," says Hanna Sarkkinen, Minister of Social Affairs and Health.
"We will move to a family leave model that meets the needs of modern society. The number of daily allowance days will increase from the present level. The reform will also give parents considerably more flexibility as they will be able to take leave in several parts or on a part-time basis. In families with two parents, both parents will have an equal quota of daily allowance days. More and more social parents will be able to take family leave when it becomes possible for parents to transfer some of their daily allowance days to their spouse, the spouse of the child's other parent or other custodian of the child. The reform also takes into account single parents, multiple-birth families and cases where the child dies," says Minister Sarkkinen.
Family leave reform promotes equality in working life
The family leave reform aims to increase gender equality both in the daily lives of families and in working life. The position of women in the labour market will improve when family leave is divided more equally between the two parents. This will affect attitudes, which in turn can reduce discrimination against women in working life.
"The message of the reform is not only for parents but also for employers that both the mother and the father can take parental leave. Workplaces play a key role in what the general attitude is towards parents, and particularly men, taking family leave. I hope that the reform will encourage fathers to take family leave and employers to support men in doing so. The reform will also help reduce the gender pay gap," says Minister of Employment Tuula Haatainen.
It also seeks to improve the balance between work and family life. It will be possible to split the family leave into more parts than before or to take family leave on a part-time basis.
Equal and flexible family leave model
When implemented, the family leave reform will give both parents a quota of 160 daily allowance days. Parents will be allowed to transfer up to 63 daily allowance days of their own quota to the other parent, other custodian, their spouse or the spouse of the other parent. For the final stage of pregnancy, there will be a pregnancy allowance period of 40 daily allowance days. There will be six daily allowance days per week. All in all, daily allowance days will amount to more than 14 months. Single parents will have the right to use the quotas of both parents. Twins, triplets and other multiple-birth children will form an exception to this model — the quota of daily allowance days for their parents will increase by 84 daily allowance days per second child and every child thereafter.

Under the new model, parents can use daily allowance days until the child reaches the age of two. Daily allowance days can be used in several parts. Parents in employment relationships will be entitled to split the leave up to four parts. Only pregnancy allowance days will have to be used in a single continuous period and started 14–30 days before the estimated due date. All parents who have custody of their child will have an equal right to daily allowance regardless of whether they are biological or adoptive, custodial or non-custodial and regardless of the gender of the parent.

At present, the types of family leaves available to parents are the mother's maternal allowance period (105 working days or approximately 4.2 months) which starts before the estimated due date, the father's paternal allowance period (54 working days or approximately 9 weeks) and the parental allowance period which may be taken by one of the parents or shared between the parents (158 working days or approximately 6.3 months).

Minister of Social Affairs and Health Hanna Sarkkinen and Minister of Employment Tuula Haatainen will hold a press conference on the family leave reform on Friday 17 September at 9.30. Watch the press conference live or see the recording:
Live broadcast of the press conference on the Government's YouTube channel
Recording of the press conference on YouTube and at vn.fi/live
The event will be interpreted into sign language.
Simultaneous interpretation in Swedish will be available on Yle Arenan.

Inquiries:
Liisa Siika-aho, Director, Ministry of Social Affairs and Health, tel. +358 295163085
Eva Ojala, Ministerial Adviser, Ministry of Social Affairs and Health, tel. +358295163201
Seija Jalkanen, Chief Specialist, Ministry of Economic Affairs and Employment, tel. +358295048952
Jiri Sironen, Special Adviser to the Minister of Social Affairs and Health, Ministry of Social Affairs and Health, tel. +358295163410
Iiris Niinikoski, Special Adviser to the Minister of Employment, Ministry of Economic Affairs and Employment, tel. +358295047372
Tuulia Nieminen, Communications Specialist, Ministry of Social Affairs and Health, tel. +358 295163635
Email addresses are in the format [email protected] and [email protected]
The Ministry of Social Affairs and Health and the Ministry of Economic Affairs and Employment will take into use new email addresses with a single 'gov.fi' suffix on 20 September 2021. After that, email addresses will be in the format [email protected]